Grab Your Water Bottle! It's National Hydration Month
June 01, 2023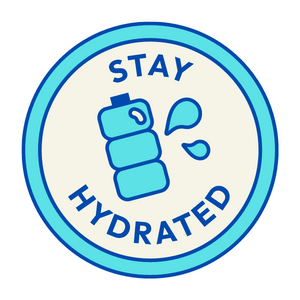 Did you know that June is National Hydration Month? Well, we know its hot outside, but proper hydration is critical no-matter the weather!
We understand that keeping the fluids flowing isn't always top of mind. Proper hydration is vital to healthy living, and improper hydration can and will lead to major health risks. The biggest risk of improper hydration is declining cognitive function.
To stay safe and keep your body in tip-top condition, enjoy some of the tips below!
Here are some tips to help make proper hydration easy
Set a reminder on your phone.

Establish goals and set a self-reward system for drinking your water.

Create a Daily Water Tracker.

Have a small glass of water when you first wake-up.

Add a glass of water to every meal and/or snack
Infused Sassy Water Recipe
Pitcher of Water

Sliced Oranges (2)

Sliced Lemons (2)

Grated Ginger (Break off a medium sized leg)

Torn Basil Leaves (to taste)
To begin, add fruit, ginger, and basil to the pitcher. Smash with a wooden spoon. Fill pitcher half-way with ice. Fill pitcher up with water. Place in Fridge. Enjoy!
Now! Have Fun and Stay Safe and be sure to
keep your water bottles handy
!

Additional Article Sources
https://nationaltoday.com/national-hydration-day/
https://www.fb101.com/september-national-family-hydration-awareness-month-helping-keep-kids-hydrated-healthy/
Stay Hydrated for a Great Night's Sleep
https://www.ncbi.nlm.nih.gov/pmc/articles/PMC4207053/
https://www.wifr.com/2022/06/23/national-hydration-day-reminds-us-drink-more-h2o/
Want to Learn More?
National Pet Hydration Awareness
10 Ways to Get Kids to Drink Water